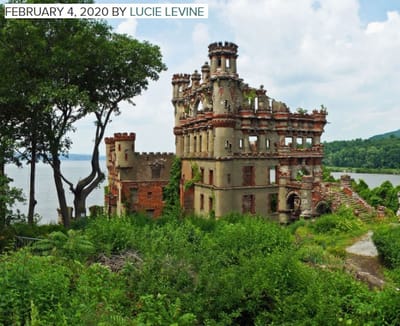 NYC Urban Sketchers EventSKETCHING the RUINS of BANNERMAN CASTLE
Saturday, September 5Let us get ready for a visual voyage to the enchanted ruins of
Bannerman Castle
, a medieval-like fortress built at the turn of the 20th century by a rich industrialist, Francis Bannerman VI who ran a very successful weaponry business. Bannerman Castle is situated on Pollepel Island in the Hudson River 50 miles from NYC. It is rich in supernatural history. The guides say fairies and goblins populate the island which many claim is haunted by a malevolent spirit which caused a series of disasters over the ages, including the destruction of the castle. Yet, despite its ominous history, visitors will be enchanted by the scenery they encounter while touring the island. The structure of the ruins is framed by flowers and other natural scenery that give the castle an almost romantic facade. Many artists have visited the island to sketch, paint, photograph the various views of the castle. (click)
BANNERMAN CASTLE
IN THE MORNING
In the morning we'll sketch the exterior structure of the castle ruins from the vicinity of the island with its numerous turrets, stairs, stone columns, and arched windows. Each side of the castle has its own unique view. Try to create a mood in your sketch whether it be foreboding, sinister, melancholic, romantic, enchanted, or something else.
IN THE AFTERNOON
In the afternoon, we'll sketch a riverview or aerial view of the castle ruins. Another option could be to sketch the interior of the castle or focus on something interesting on the castle's facade or castle grounds.
VIRTUAL LINKS YOU CAN USE
Since we will be working virtually you are free to use any source material you like. I suggest strongly you read the short history of Bannerman's Castle in the first two links provided, then look at the
Plein Air Paint Out
link. If you choose to sketch or paint a romantic setting for the castle ruins, be sure to check the link "
Romantic Views of the Castle
."
Legend Behind Bannerman Castle
Background of the castle
DRONES explore Bannerman Castle
(see video)
Plein Air Paint Out- Bannerman Castle
https://www.slideshare.net/LDianeJohnson/bannerman-island-plein-air-paint-out
Fantastic Photos of Bannerman Castle
https://www.pinterest.com/debora1111/bannerman-castle/
https://www.pinterest.com/michidermot/bannermans-castle/
https://roadtrippers.com/magazine/bannermans-castle-pollepel-island/
https://www.alamy.com/stock-photo/bannermans.html
https://theghostinmymachine.com/2014/10/13/haunted-road-trip-tgimm-special-edition-part-1-scaling-the-ruins-of-bannerman-castle-bannerman-island-beacon-new-york/
Interior of Castle
Romantic Views of the castle (Bannerman Castle Flowers)
Pollepel Island-Bannerman Castle river and aerial view
https://www.flickr.com/photos/jag9889/2981506105/in/photostream/
http://www.headfirstadventures.com/2013/09/06/the-castle-on-bannermans-island/
Drawing Techniques

How to Draw Stonework on Old Ruined Buildings - Spoken Tutorial
How To Draw & Render Realistic STONE TEXTURES in Pencil
Real Secret of a Loose Painting - Visual Language
GOBLINS
FAERIES
BANNERMAN ISLAND TOURS and SPECIAL EVENTS
-OPEN NOW
Labor Day Cruise and Walking Tour (September 7th, 2020)
Take the family on a LABOR DAY jaunt on the Hudson River!
The Best Things to Do in Beacon, NY
(ferry landing for Bannerman Island)
web site creator:
Cecilia Evasco
(No affiliation with Bannerman Castle)